PTFE stirring rod, steel core, length x diameter, 150 x 6 mm
4,81 € for 1 piece plus VAT (21%) plus shipping costs
---
Assortment:

LAB-PTFE

Article-No:

003.150

Category No.:

90550212

Index:

Rührstab

Validity:

31.12.2021

Last Update:

26.05.2021

Similar articles:

Show (12)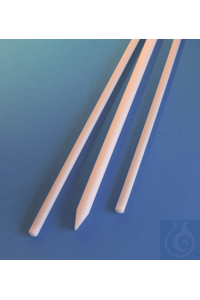 The picture may be different from the article and can include supply, which is not in the standard scope.
PTFE stirring rod, steel core, length x diameter, 150 x 6 mm
Stirring rods are available in two versions. Pure PTFE solid rod with tapered end and pure PTFE with mild steel core. The version with steel core can be bent into a permanent shape. Inert and will not scratch, use up to 280°C.
| Description | value |
| --- | --- |
| Length: | 150 mm |
| Outer diameter: | 6 mm |
| Material: | PTFE |