Big capacity jars 10000 ml, HDPE, tamper evident screw cap, 195 x 195 x H 400 mm
12,85 € for 1 piece (minimum purchase: 10 piece) plus VAT (21%) plus shipping costs
---
Assortment:

Lab-plastix

Article-No:

PL-58

Category No.:

90050114

Index:

drums with cover

Package:

10 piece

Validity:

31.12.2020

Last Update:

31.12.2019

Similar articles:

Show (2)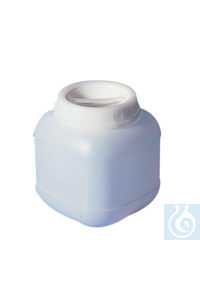 The picture may be different from the article and can include supply, which is not in the standard scope.
Big capacity jars 10000 ml, HDPE, tamper evident screw cap, 195 x 195 x H 400 mm
Mouth 110 mm. properties: suitable for food use, square based to storage creams and granulates, color: neutral.
| Description | value |
| --- | --- |
| Nominal volume: | 10 l |
| Material: | PE-HD |
| Color: | Natural |
| Width: | 195 mm |
| Depth: | 195 mm |
| Height: | 400 mm |